Tag — now in Tumblr Edition
Tagged by this bbu: Jess
Rules:
Rule 1.

 Always post the rules

Rule 2.

 Answer the questions the person who tagged you has written and write 11 new ones

Rule 3.

 Tag 11 people and link them to your post

Rule 4.

 Let them know you've tagged them
1- Your first book.
I don't remember, but I think it was Paco Yunque. It's a Spanish novel that made cry my insides but I didn't show it.
2- Cats or dogs?
DOGS! PUPPIES. THEY'RE FUCKING ADORABLE
If I get one I'll name him Devon. omfg
LOOK AT THIS FUCKERS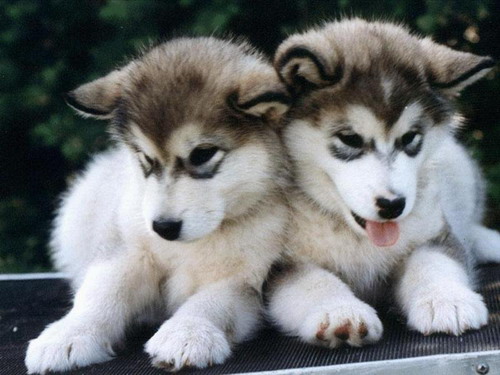 3- Strawberry or chocolate?
CHOCOLATE.
 4-Favorite country.
… Germany. jfc Because oF REASONS OKAY? My favorite soccer team is from there too, and I always root for 'em.
5- If you could choose to participate in one movie, villain or heroe?
Villain. Holyshit. I wanna be the hated asshole.
6- Favorite thing about your platonic love.
I have tons; it'd be tons of different things. Some of them though: Their BRAINS, they way they draw, how funny/adorable they are. *sobs*
7- Favorite flower.
I'm not into flowers; but I like those blue ones (which I don't know the name of).
8- Something you believe.
In believing.
9-If you could travel to time (YES TARDIS) in which era do you want to stay?
DINOSAURS! I wanna see a pterodactyl! Although I'd be probably eaten alive.
10- Favorite work of art.
I don't think about that much, but I have a decent obsessions with Pablo Picasso's Guernica and Michelangelo's The Creation of Adam.
11- Tom or Loki? (I know I´m so badd)
Tom … ? (Haha, I'm not into that fandom that much)
1) What's your age?
I'm 20 … but mentally, that—that's another story. Like 8.
2) Tea or coffe?
HolyshitHOW AdRE YOU?! hOW DARE YOU ASK ME THAST  ????
COFFEE. ALL THE WAY.
I'D MARRY COFFEE
3) Do you write, draw, edit, or just run a awesome blog?
… all of them; although I just put my writing FF.net. (FYI, I'M UTTERLY IGNORING THE "AWESOME BLOG" PART).
4) Facebook or twitter?
TWITTER. TWITTEEERRRRRRRRRRRR —HEARTS—
5) If you can change something about how do you look, what would be?
I wouldn't…? Maybe… maybe my eyes. Just because I have a psycho obsession with blue.
6) Do you prefer girls or boys? (as friends, partner…)
Please. I just enjoy the view. omfg. (AKA. I don't care).
7) Something you can't live without?
… air. Food! Eyesight… my right hand! (The hand part, not in a pervert way… I need to draw to live jfc).
Hahaha. And two words for you:
Wi-fi.
8) Do you know some tumblr friend in 'real life'?
No. ): bUT I HOPE SOMEDAY I WILL. It's in my bucket list LOL.
9) What's your best habit?
Being clingy as fuck; you won't feel lonely, baby! … —is that a habit?
10) School or university?
Uniiiiverrrrsity! ♫
 11) Favorite song?
I have tons. Lemme be random. According to my music player:
It's Time | My Dark Side | Cough Syrup | Teenage Dream | Everybody Wants to Rule the World | Somebody That I Used to Know | Do Ya Think I'm Sexy— Glee Cast
Soul Sister! | Drive By | 50 Ways to Say Goodbye — Train
Some Nights — fun.
Love Me | Boyfriend — Justin Beiber (yes, and it's not the only song.)
Look What You've Done — Jet
TL;DR = Songs sang by BLAINE CUTIE DEVON CUPCAKE PUMPKIN ANDERSON
12) Favorite book?
I'll go with Harry Potter and the Sorcerer's Stone; since I don't want to feel cliché again, also William Golding's Lord of the Flies (I lovelovelove that book).
1. Do you love me? (random questions)
Fucking hell, you bet I DO <3333333333 —SUPERHUGEHEART—
2. Do you rather see a comedy or a drama movie?
Comedy — I have way too much drama with Glee already
3. Your favorite ice cream flavor.
COFFEE.
4. Your favorite color.
BLUEEEEEEEEEEEEEEEEEEEEEEEEEEEEE♥
5. What is the car of your dreams?
6. Relationship or foreveralone?
Now I'm foreveralone —… someone wanna adopt me. No? …. 'kay.
7. Favorite movie.
Grease | The Exorcist | The Others | The Omen 666 | BTTF I, II, & III
Searching Nemo | Mulan | Shrek | Tangled | The Road to El Dorado
And more??
8. Favorite TV Show.
AHAHAHAH I CAN'T CHOOSE, but right now:
Glee | TNN | The Big Bang Theory | HIMYM
9. What is your favorite band?
No, no the list is too long. You said bands though…
Simple Plan | Linkin Park | P!ATD | Train | Fun | Coldplay | Bon Jovi | Guns 'N Roses | Glee Cast counts, right? — + shittonsoffucking etc.
10. Do you like K-pop?
Nope. ):
11. What is your favorite thing in the whole world?
Laughs and hugs/cuddles.
And like I'm a materialist, I'll say coffee.. and laptop. Also wi-fi.
—
Now, my questions:
According to you, hottest woman alive?
And hottest man alive?
Now, choose between those two.
What is the show/anime/movie/book that has made you cry so much to the point where you're ashamed to admit?
The reason you joined Tumblr?
Smileee for me? :DDDDDD
Are you more of an optimistic or pessimist person? No in-between answer.
What's the OTP between all of your OTP's and ships?
Name some of your heterosexual ships/OTP. :)
How are you spending St. Valentine? Watching/reading gay porn like me?
List a few ships that you just can't stand, or dislike/hate. Or those ships that haven't choose you to ship them. wtf
toposa likes this
jessicauchiha likes this
chasebluesmiles posted this